Disney Parks Digital Ticket Store Engagement Project
E-commerce experience that's more than just simple and utilitarian.
About the Project
The analytical data showed that, about 50% of the traffic landing on this page comes directly from search engines. By watching the screen recordings, we found out that a good amount of those users were looking for additional information rather than purchasing right away.
Because of the nature of the redesigned page being simple and utilitarian, we assumed those users weren't provided enough context and information when they landed on this page.
So the questions are:
"How can we help provide enough context and information about the diverse experience in the park? "
From the business side, "How can we convince them to purchase tickets, and purchase with more days for each ticket"
Emotion and excitment could be the key.
My Role
I was the interaction design lead on this project, with a visual design partner and a principle designer being oversight.
My contribution includes running brainstorming sessions, ideation, stateholder communication and presentation, rapid prototyping and facilitating the Guerilla test.
Reimagine the Ticket Store, From the Content Perspective
We invited our business partners, held several workshops trying to figure out:
What's the overarching message?

What else do the users need to know when purchasing tickets?

How to convince them to buy tickets with more days ?

How to transform great park experiences into countable days ?

How do we surface different content so it appeals to different types of users ?
Here are some of the whiteboard sketches and wireframes demos: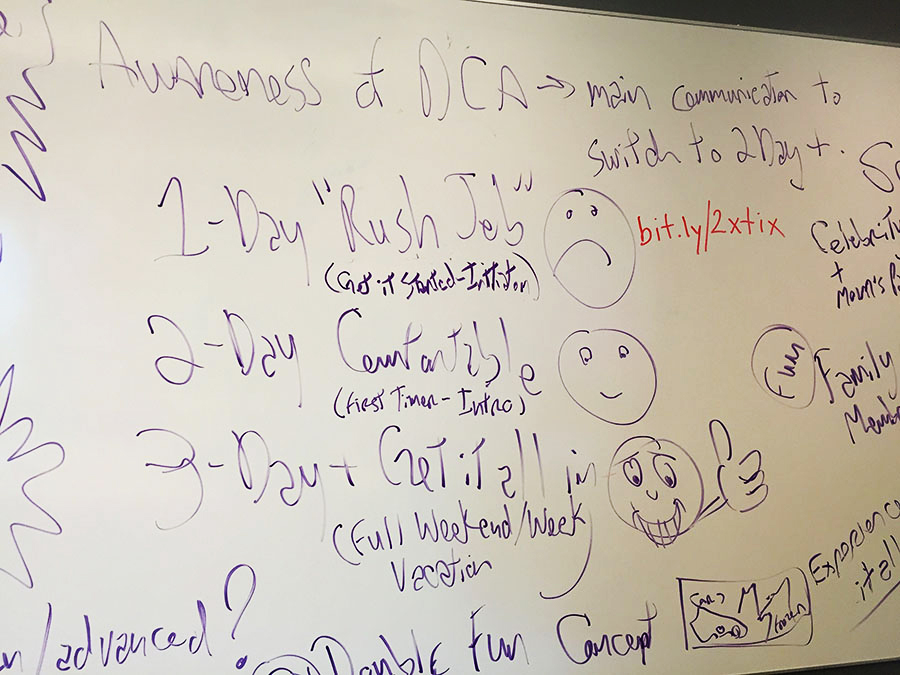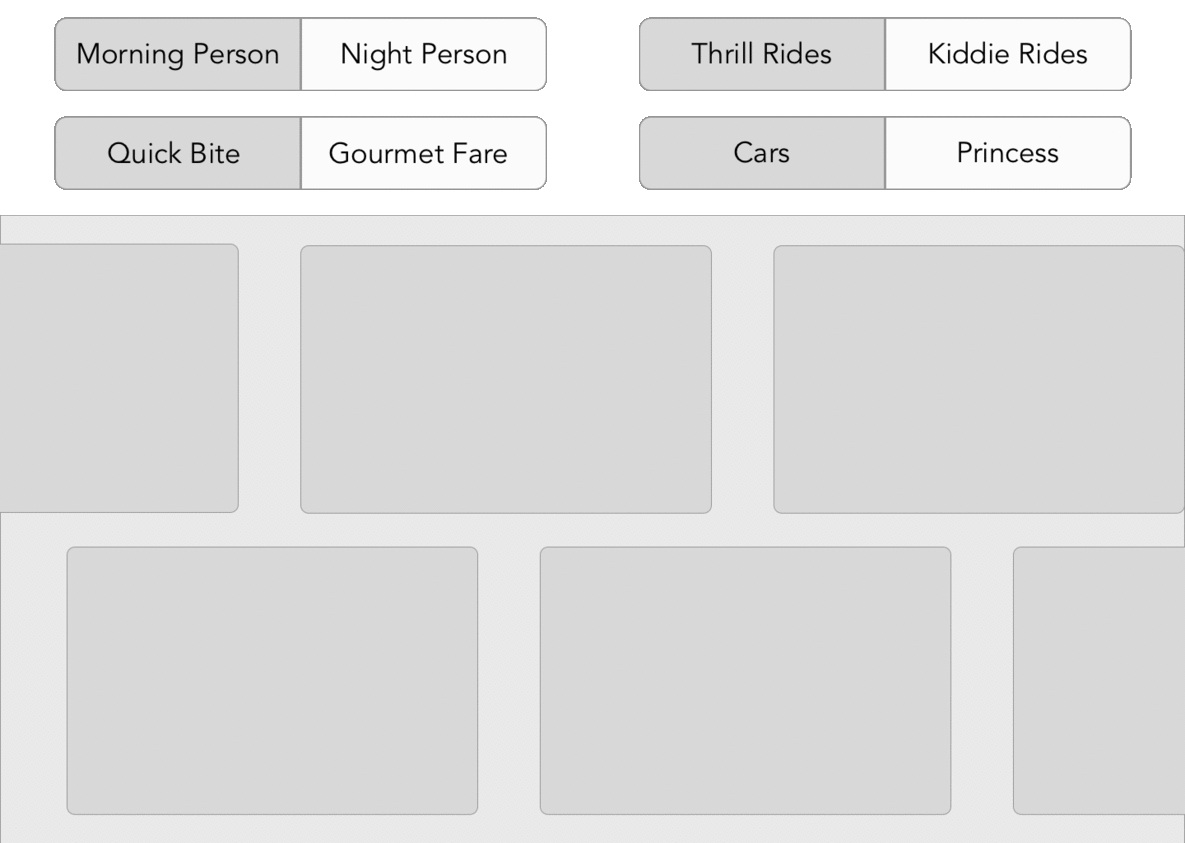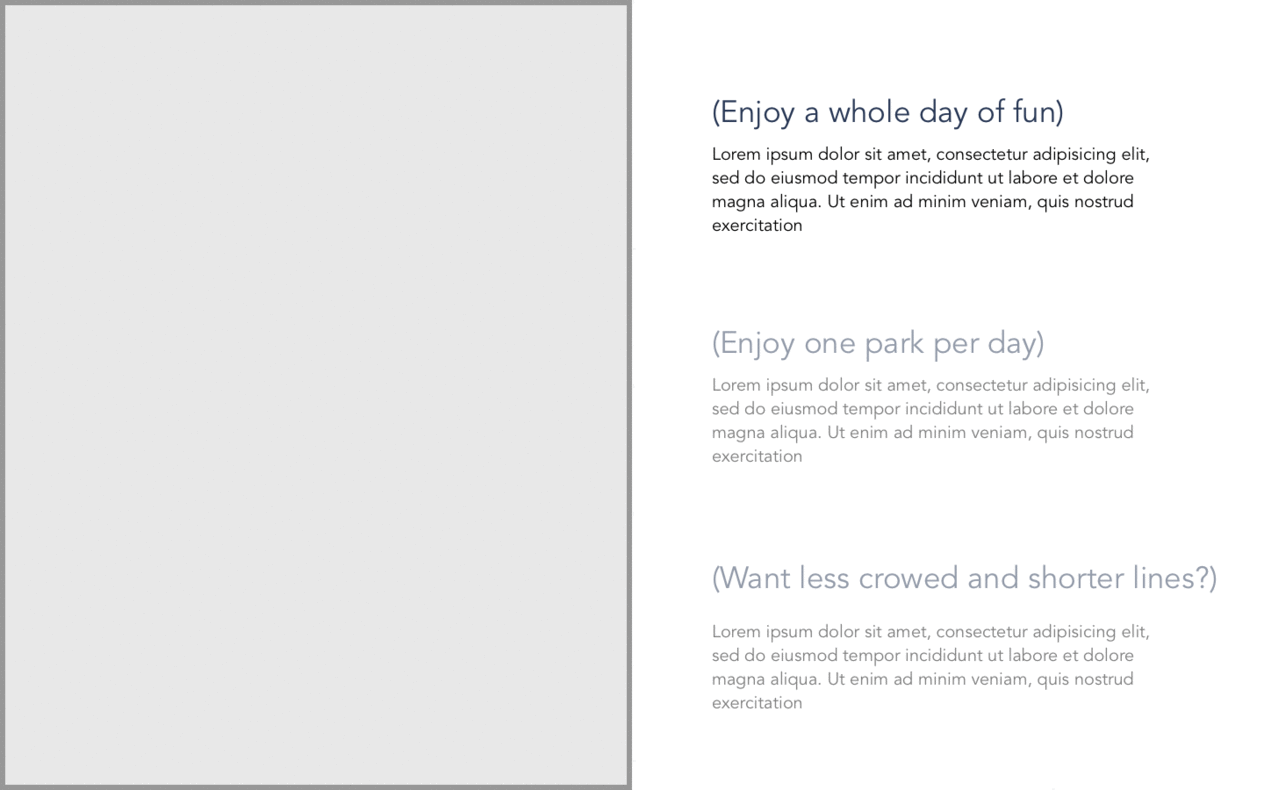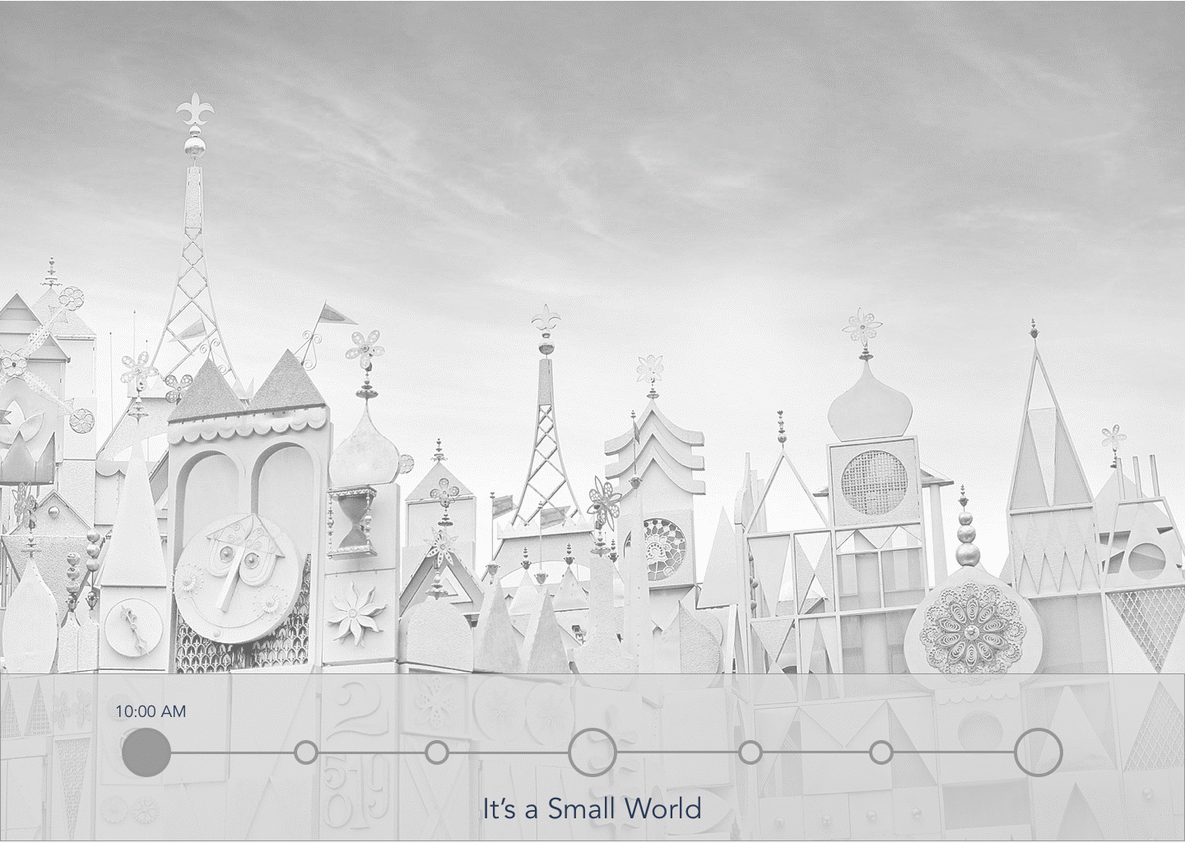 Reimagine the Ticket Store, From the Structure Perspective
On the other hand I was trying to figure out the structure to hold such rich content.
The existing Bravo ticket store was proved to be a functional and useful engine so adding an additional layer to this page is quite tricky.
What's the relationship between these two layer of functionality ? How could a ticket configuration page be both informative, engaging and useful at the same time? How do we give users easier access to both ?
Because some of the ideas heavily rely on motion and storytelling, I chose to rapid prototype demos from greyscale wireframes:
The Three Concepts
After rounds of discussion and iteration, concepts from content and structure started to naturally merge and we eventually found ourselves with 3 promising designs each with different amount of interactivity and promotional info.
By the end of the week I had all 3 Framer prototypes ready for testing:
Guerrilla Testing
I was a bit concerned on the validity of the test while discussing and setting up tasks with my UX research partner.
Usually guerrilla testing helps us discover usability issues. On the other hand, for this particular test for this specific project, we were trying to discover findings from the emotional level. We were trying to gauge participants on whether or not they're more engaged with the page and more willing to purchase. It's not what guerrilla test is really good at.
Considering the time and resource limit, we decided to give it a try.
Findings
Of all three concepts, the concept 1 received some really bad ratings. Participants found it either confusing or overwhelming from the edge to edge images and dramatic changes. Some had a hard time figuring out how the page works.
The remaining two didn't have major problems. The only issue was related to the anchored CTA taking users down to the configuration portion of the page. Quite a few felt the page scrolled down too fast and they must have skipped something important. It turned out, as the design team tried so hard to include as much content as we could and over time the page itself gets too long to process.
As for individual interactive modules, while some found them engaging and useful, the others think it's not necessary there was no easy way out.
What Happened Next
The project was paused right after the Guerrilla testing because of budget cut. Later on another group of designers take on the project and approached the redesign in a more scaled back fashion informed by the Guerrilla test.
The project was launched through A/B test. Later on the result came out to be quite promising: more than 2% of conversion increase with estimated millions of monthly revenue increase.
The project itself provided great insight and laid a good foundation for another E-commerce redesign project which is currently under NDA.
These astounding illustrations used as the final hero images was created by one of the amazing visual designers Odeh Amarin.
Also, Feel free to check out the live page here for Disney World and Disneyland.
Want to hear the full story? Shoot me An Email: 📤